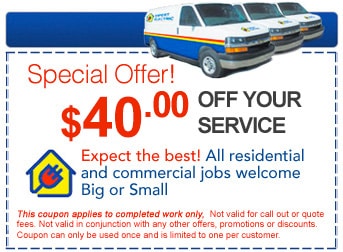 Expert Electric is a licensed electrician in Langley that has provided thousands of customers with professional electrical services throughout the greater Langley, BC area including both the city of Langley and Langley Township. Our electrical company provides comprehensive electrical services for both commercial properties and your home or other residential property, including lighting installation services, upgrades, and repair services. Contact our team of licensed electricians today to get a free quote for your upcoming electrical project or electrical repair service needs. A highly trained and experienced electrician is always ready to help!
Contact Us

Phone: 604.465.9560

Email: Send Us An Email
Why call us first: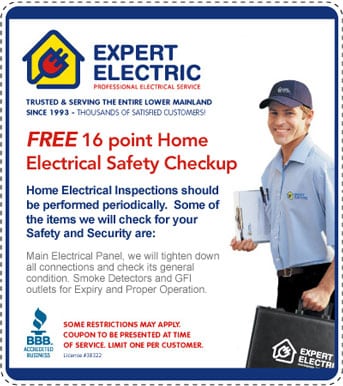 An electrician is always easy to reach – Real people answer our phones, not machines
1,000's of parts on our electrician trucks – For on the spot repairs in your home or business
Over 20 years as an electrician helping customers from Vancouver to Abbotsford solve electrical problems.
Well Trained Courteous Electricians – we successfully perform repairs to thousands of electrical problems ever year.
Upfront pricing guaranteed – you know the price before the work begins
24 hour emergency service in Langley, BC
Quick response time
Trained electricians
Personalized scheduling
Areas We Serve in Langley
The dedicated team of highly trained and experienced electricians from Expert Electric are proud to provide comprehensive electrical service solutions for commercial and residential properties in Langley, BC. Our electrician service area in Langley, BC includes the following neighbourhoods and communities:
Aldergrove
Brookswood
Fernridge
Fort Langley
Langley City
Milner
Murrayville
Rural Area
Township of Langley
Walnut Grove
Willoughy
Willowbrook
Call us today to find out if we have an electrician in the area your home or office is in or to get a free quote for your commercial or residential electrical project.
Commercial Electrical Services in Langley
At Expert Electric, we are proud to provide commercial services throughout the Township of Langley and surrounding areas for local businesses, building/office renovations and upgrades, construction projects, and more. No matter what commercial electrical service you are looking for—from electrical rewiring and security lighting upgrades to electrical transformers and lighting installations—our commercial electricians can handle it all. Get in touch with us today to learn more about our electrical service options for commercial properties or to book an electrician for your upcoming electrical lighting project.
Residential Electricians Langley
Our licensed electricians can handle any type of home electrical repair or electrical installation—lighting upgrades, wire installation, etc. —no matter how big or small. Not only are we available 24 hours a day, 7 days a week, we provide emergency electrical services for those times when you need an electrician for your home fast.
We provide all types of electrical installations for your home's kitchen, bathrooms, bedrooms, home office, and outdoors. Some of the different types of home electrical services we provide in Langley, BC include but are not limited to the following:
Ceiling fan and lighting installation
Chandelier lighting installation
Electrical breaker and fuse installation
Electrical panel upgrade and installation
Track and accent lighting installations
Electrical circuit and outlet installation
Surge protector installation
Electrical car charger installation
Electrical heating repair and installation
Spa and hot tub wiring installation and upgrades
Home telephone wiring installation and upgrades
Monoxide detector installation
Electrical service upgrades
Get in touch with us today to learn more about our home electrical service solutions or to book an electrician for your upcoming electrical project.
Contact a Langley Electrician from Expert Electric
Whether you need help with an electrical problem at home or the office or you want advice from a professional electrician, there is no job too big or too complex for our team of highly trained and experienced electricians to handle. Contact us today to book an electrician for your office or home electrical upgrades!