Ceiling Fan Installation / Maintenance
How Much Does It Cost to Install a Ceiling Fan?
The cost of installing a ceiling fan generally depends on who is doing the installation and the scope of the ceiling fan installation itself. If you are hiring a licensed electrician to handle the installation of a ceiling fan, it may take between 1-3 hours of labour.
The cost of installing a ceiling fan also depends on whether or not there is a box present from a previous ceiling fan. The cost will increase without any previous box or ceiling fan wiring. If you are looking to install a ceiling fan on your own, the cost will likely be lower assuming that you have the necessary tools, experience, and time. If you are unfamiliar with electrical installations, we would highly recommend hiring a local electrician to handle the installation of your ceiling fan.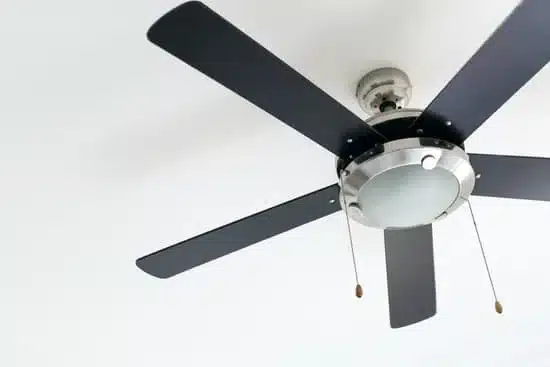 How Long Does It Take to Install a Ceiling Fan?
It usually takes between 1-3 hours to install a ceiling fan; however, this is highly dependent on the complexity of the installation. Most licensed electricians can install a ceiling fan in 1-2 hours. If you are inexperienced with electrical installations and ceiling fans, it could take a lot longer to properly install a ceiling fan.
If there is no wiring in the area that you would like to install the ceiling fan, you will need to either learn how to install ceiling fan wiring or hire a licensed electrician to handle the installation of ceiling fan wiring.
Creating More Air Movement in Your Home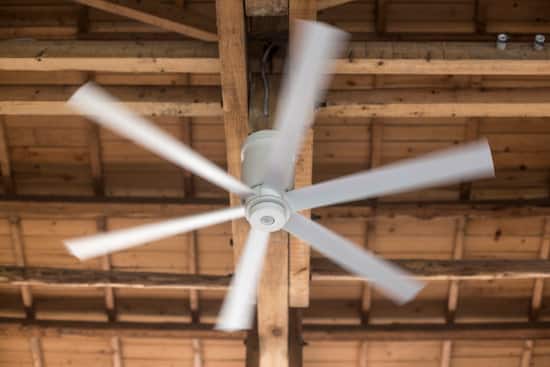 Expert Electric electricians are the professionals when it comes to ceiling fan installation.
Each year we receive hundreds of calls from homeowners in the Lower Mainland who need help installing, reinstalling, tightening, wiring, and rewiring fans of all shapes, sizes, and models.
Ceiling fans help circulate air and provide cooler air flow, allowing you to raise the thermostat setting in the summer and decrease it in the winter. For the energy use of a light bulb, the ceiling fan is a very cost-effective way to be comfortable and save valuable energy dollars. Expert Electric will install your ceiling fan on your existing pre-installed fan box or install new wiring, switches, dimmers and a fan-rated brace box for any area of your home, as required.
Winter and Summer Ceiling Fan Use
In the summer, ceiling fans are very effective at lowering the apparent temperature by making use of evaporation. When you are hot, you perspire, and evaporation of that perspiration pulls heat away from your body. Circulation of the air rapidly increases evaporation. The more evaporation, the cooler the apparent temperature. This means the thermostat on the A/C can be set higher—saving you money.

With the reverse switch set for a downward airflow (in almost all cases this is counter-clockwise), running your ceiling fan on high speed creates a turbulent column of air. This cone-shaped area of maximum airflow is relative to the area and pitch (angle) of the blades, as well as the RPMs of the motor; hence, the three speeds.
Use of the ceiling fan in winter can help save you money on your heating bills. Since heat rises, a large amount of heated air can collect in a room with high ceilings before it can even be felt. In cold climates, where possible, heater vents are put in the floor. This is the most effective way to heat a room because the air will rise. In a room with a 16′ cathedral ceiling and the thermostat set at 68 degrees F, the uppermost 3′ can be 90 degrees or higher before the heater shuts off, which is an incredible waste of energy.

With the reverse switch set for an upward airflow (clockwise), running your fan on low speed will force the heat accumulated at the ceiling down along the walls where it must rise again. This mild circulation of air provides a more evenly heated room and shortens the time it takes the heater to work.
Ceiling Fan Comparison
Before purchasing a ceiling fan for your home, it is important to take the time to research and compare the different available options. Some of the different things to consider before buying a ceiling fan include:
Airflow
Ceiling fans of like size or blade length—Largest blade pitch + greatest RPMs = greatest airflow. Normal blade length is 30″ to 52″. The more blade surface, the more air it will catch. Normal blade pitch is 8 to 14 degrees. The larger the pitch, the more air it will move. Note; as the pitch or blade surface increases, the motor size must be increased, or the RPMs of the motor will drop. Normal RPMs will be 20 to 300 for 36″ and 42″ ceiling fans and 20 to 220 for 52″ ceiling fans.
Motors
Sealed bearings or Oil Bath—The sealed does not require any maintenance. The oil bath type must be serviced occasionally. The normal current draw will range from approximately 15 watts at low speed and 115 watts at high speed.
Construction
In the cheaper fans, the outer covering or case over the motor, the switch housing, and the canopy will be made of very thin material. In the more expensive fans, these parts are castings and approximately 1/8″ thick. The thin components will tend to vibrate and rattle more. Also, the plating will not look as good as the years pass.
Mounting Type
In-rod fans, the motor housing is suspended from the mounting bracket by a rod. With hugger ceiling fans, the motor housing is mounted directly to the ceiling box. Many ceiling fans now come as convertible (they can be installed as a hugger or rod fan). We recommend the hugger installation for a situation where the ceiling is low, and the blades would be not be at least 7′ from the floor.
Ceiling Fan Type
Virtually all fans sold today are reversible. Most are 3 speed pull chain fans. You can purchase wall controls or remote units for these fans. Some fans come with a wall control or a remote, which will have from 3 to 6 speeds.
Warranty
When you hear "Lifetime", be careful to read the warranty papers. Normally it will be a "Limited Lifetime" warranty and the only part of the ceiling fan that exceeds one year will be the motor. All the component parts will normally be one year. The ceiling fan motor will almost always outlast the component parts.
Fan Wobbling
Wobbling is not a result of how the fan is mounted. Instead, the one and only cause of wobbling is fan blades being out of weight-alignment with each other. This can happen due to a variety of factors, including: warped blades, bent blade irons, blades or blade irons not being screwed on straight, blades being different weights or shapes or sizes (minute differences matter), and so on. Although wobbling will not cause a ceiling fan to fall, ceiling fans are secured by clevis pins locked with cotter pins, so wobbling cannot have an effect on the fan's security.
Where Should Ceiling Fans Be Installed?
Put ceiling fans in all the rooms where your family spends a lot of time. The kitchen, the family room, the den, and the bedrooms are obvious choices. Some people have fans in all the rooms, and even on the patio and in the workshop or garage. Ceiling fans can greatly enhance the décor of any room, as there are literally hundreds of colours and designs to choose from. Ceiling fans also provide excellent lighting options, as well. Simply pick out the ceiling fan that suits your personal style and décor and Expert Electric will be more than happy to install it for you.
Ceiling Fan Installation Tips
Once you have figured out where to install your new ceiling fan, there are a few other things you will need to consider.
Height and position — for the greatest efficiency you should make sure that your fan is in the middle of the room, 8 to 9 feet above the floor, and that the ceiling fan blades are no closer than 18 inches from the walls.
Downrods — when installing your new ceiling fan, you will need to determine the proper length of the downrod (the shaft that connects the motor to the blades). Typically, for an 8-foot ceiling, 3-5 inches long is the correct length. The best way to determine the downrod length for your ceiling height is to consult a showroom or manufacturer's website.
Low ceilings — if you have a ceiling lower than 8 feet, you should use a flush-mount fan designed with special vents to cool the motor. These fans have a depth of only 6-9 inches and do not include a light fixture.
Electricity and support — if your ceiling does not have a light fixture where you can install your ceiling fan, you will need a licensed electrician to bring electricity to that spot, install an electrical box and a light switch. For safety, a special bracket that is firmly anchored to the joists must support your ceiling fan.
Ceiling Fan Maintenance Tips
In order to keep your ceiling fan in optimal working condition, ceiling fan maintenance is extremely important. Below are some of the maintenance tasks that you can perform on your ceiling fan:
1. Cleaning
Overtime a ceiling fan's blades can collect dust. Once dust has accumulated on the blades, it can become airborne during use. This either spreads the dust through the air, which is not enjoyable for anyone in the room, or it can be sucked into the motor. If too much dust is drawn into the motor, it can result in shaking and cause the motor to run hot. This can lead to an expensive repair bills down the road. You should clean your ceiling fan at least once a year. Start by cleaning the blades with a brush and then use a damp, soapy cloth to remove the remaining sticky stains. Leave the fan to dry before using it again.
2. Lubrication
Most machines with moving parts require lubrication on a regular basis. Older ceiling fans require lubrication while newer fans are self-lubricating. If you are unsure whether your fan requires lubrication, check the owner's manual. If your fan is not properly lubricated the motor can become damaged and cause electrical fires. To lubricate your ceiling fan, use any light oil to fill the oil hole that is located on the topside of the motor. Fill this hole until the oil flows over and then remove the excess with a tissue or rag.
3. Warning Signs
When starting up your fan for the summer, there are several problems that can generate because of lack of maintenance:
Noise – If your fan is becoming noisy, check all the connections on the fixture. Tighten all the screws to ensure that nothing is moving or shaking during use. If your fan continues to make noise during use contact a professional to check for a larger problem.
Bad smell – If your fan is emitting a bad smell this could likely be due to the motor overheating. Too much dust has gotten into the motor or it has not been properly lubricated. Have an expert check the fan to make sure that it is safe to run and prevent further damage to the fan or your home.
Wobbling – Wobbling can be the result of an improper weight-alignment. This can happen due to a variety of factors, including: warped blades, bent blade irons, blades or blade irons not being screwed on straight, blades being different weights or shapes or sizes. A wobbling fan can be dangerous and comprise the security of the fan.
Request a quote today for ongoing electrical maintenance or for any electrical project!