Track AND ACCENT lighting
Accent lighting is a form of lighting used most commonly for illuminating walks with subtle light. However, this form of lighting can also be used to highlight key objects and focal points in the home or surrounding landscape. For instance, many people like to display particular pieces of artwork or other collectible items in their home. Others may choose to highlight water features or plants in the garden. When adding light to a specific object, it can help create or set a particular mood to the area as well. Some of the most common accent lighting fixtures include track, recessed and wall-mounted lights. Track lighting is probably considered the most flexible. Fixtures are placed as needed and aimed in any direction along the track. They can also be used with other light sources, like sconces or lamps. Recessed lighting fixtures blend into their surroundings. These are usually installed in ceilings, under cabinets, or within bookshelves and are available in many styles. Wall-mounted fixtures are attached directly to a wall or similar surface. They can also be placed above or below the frame of a hanging. Outdoors, light fixtures may include those placed in the ground or specialized lamp fixtures.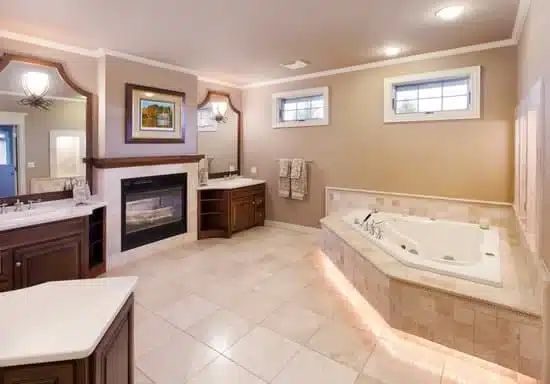 Forms of accent lighting may include low-voltage halogen lights, fiber optics, metal halides, and LED (Light Emitting Diode) lighting. Halogen lights are great for highlighting or spotlighting objects, as they emit a strong, white light. Fiber optics are good choices for lighting stairs; paths; or water features, like ponds and pools. Metal halides provide soft light and are best used for subtle lighting in small areas. LED lights are becoming more favored. They are more energy efficient, last longer, and are flexible enough for use in various lighting fixtures and situations. Different types of accent lighting can be used, but path lighting is the most common. Not only does it provide nighttime safety but can also accent interesting patterns, stones, or plants along the way. The use of floodlights can also provide safety. These accents lights are ideal for emphasizing architectural features in the landscape as well. For a more dramatic effect, the use of well lights can be placed in ground or floor fixtures and concealed with plants to cast light upwards. There is also submersible accent lighting, which is used for creating drama and highlighting ponds or other water features. Backlights are generally placed behind objects to create shadows or silhouettes. All of these types of accent lighting can be used to create various effects with different techniques. For example, silhouetting is used to accentuate an object's outline. This, as previously stated, is done by placing backlights behind the object and pointing it upwards. Spotlighting an object involves pointing the lights directly at the intended feature. This popular method is most often used for highlighting focal points in the landscape. Moonlighting can be achieved with recessed light fixtures, which are placed in the ceiling or with floodlights placed in trees. The result is a downward light pattern that mimics natural light from the moon. The type of accent lighting and method used depends on the desired effect to be achieved.
Track lighting Installation
Instead of the clunky tracks and heads, today's track lights have many options for the track itself as well as the size, style, and color of the light fixtures. Track lights are perfect when you want to accent objects with light or work under a directional task light. Here are some basic tips on what to look for when considering installing track lighting.
Why You Want Track Lighting
Track lighting is a contemporary fixture that's as perfect for new construction as it is for renewed spaces in existing homes.
Tracks are versatile, allowing flexibility in sizing, placement and fixture styles.
Lights can be aimed at artwork, countertops, walls, or other room features as needed, making them infinitely useful if you like to change your furniture or artwork around from time to time. Go with white fixture heads to blend into a ceiling or make a statement with black or silver heads.
When to Use Track Lighting
Tracks are especially handy when a room has an existing electrical box in the ceiling yet needs additional light directed throughout the room. For example, install a track in an older kitchen or home office when you can replace an outdated ceiling light with a track that aims light right where you need it — on work surfaces and into pantries or closets.
Where to Place Track Light Fixtures
Run a straight track along a hallway ceiling and aim fixtures at artwork on either wall.
Customize a track to fit your kitchen space. A U-shaped configuration may allow you to place light right where you need it – over an island or onto the countertops.
Install a track 20- to 40-inches out from the walls in a room.
Consider installing a track to highlight a large collection of artwork hung over a mantel or on a wall, since the heads can be adjusted to point at specific areas of the display.
A track installed in a dark closet will let you position a number of heads right where you need light – on clothes or shelves.
Higher ceilings can take track units that are dropped from a central electrical box location or via stems or cable systems.
Watch that track heads won't interfere with the operation of doors, cabinets, or other movable room elements.
Heads are available in large, small, and mini sizes.
Track lighting is manufactured in specific lengths (such as 4- or 8-foot sections), though track sections can be joined via connectors in a straight line, L-shape, or T-shape.
When purchasing track lighting, buy all of the parts from one manufacturer, since components are not interchangeable.
Power runs through the track to run each light head that is clipped into the track.
The heads can usually be pointed in any direction or rotated up or down, or side to side as needed.
Types of Light Bulbs for Track Lighting
You may want to select the type of bulb you prefer before selecting the heads and track for your system.
Line voltage halogen lamps (also known as PAR lamps) are good all-purpose bulbs for most applications.
MR16's (also known as low voltage halogen) are best for accent lighting and also require transformers either on each fixture head or installed into the ceiling.
What are the benefits of pot lighting?
Pot lights are one of the most efficient and brightest lighting solutions available on the market today;
Pot lights are designer's 1 st choice for creating ambience in any room;
Pot lights give your home a modern and fashionable look;
Pot lights are inconspicuous and effective space savers;
Pot lights allow you to create the maximum amount of light in a room with minimum fixture visibility
Pot lights provide a natural direct light;
Pot lights bring higher resale values to homes;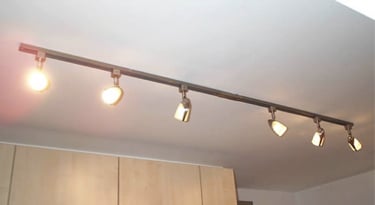 Request a quote today for ongoing electrical maintenance or for any electrical project!