Security cameras aren't just for businesses or people who live in rough neighbourhoods; any property can benefit from a good CCTV system. Having a security camera system on your property can be a natural crime deterrent and, in the event that anything happens on your property, it can be used to recover property or as evidence for insurance. There are many different types of CCTV systems, and the right system can last for many years to come. The team of experienced electricians at Expert Electric has been providing sourcing and installation services for home security and camera systems for years, and we work with a wide variety of brands. Whether you need simple Wifi cameras set up and synched to an app or 4K security cameras connected to a central DVR machine, Expert Electric can help.
There are a few different types of security camera systems that can be installed for a home or business, and the system you should use will depend on your security needs. Within each type of camera system, there are a variety of types of cameras that can be used, so there are plenty of options to customize your CCTV setup. The main types of systems for security cameras include:
Wired security cameras
Wifi security cameras
Wire-free security cameras
Wired Security Camera Installations
If you are looking for the most secure type of camera system for your home or business, wired cameras are the way to go. Although they require a bit more work to install, they are much more secure as they don't use a wifi signal to transmit their camera feeds, meaning they are more resistant to hacking and tampering. They are also much more reliable in the event of power failures since they connect with a DVR machine via wires, meaning they don't need to be reset when the power comes back on. Their resistance to interference and lower failure rate make wired cameras ideal for larger homes and commercial use.
Wifi Camera Installations
Wifi cameras (which are also often called wireless cameras, but should not be confused with wire-free cameras) are great for smaller homes due to their easier installation and easy connectivity. They are also great for temporary systems, since they can be removed or moved easily. However, it is important to note that these cameras still require power lines, so they are not technically wireless solutions and still often require an electrician to run a power source to their installation location. Wifi cameras can connect to a DVR machine or even an app through a wifi connection, but they tend to be more limited than wired security cameras in their capabilities and resolution.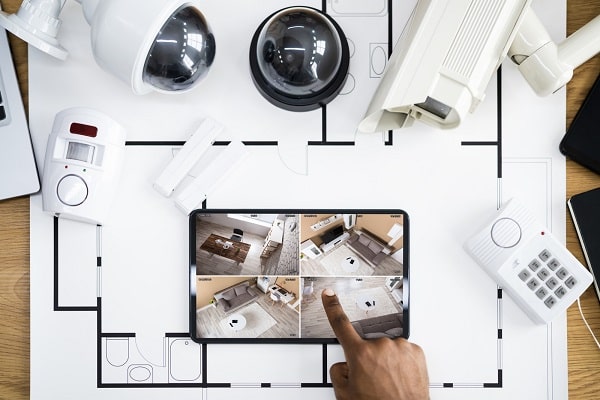 Wire-Free Camera Installations
Wire-free security cameras are excellent options for locations that are extremely temporary (like a weekend event) or far away from any possible power source (like the middle of the woods). These cameras have batteries that need to be changed or charged regularly, and can store their own information to be collected on SD cards or linked to wifi. In most cases, these cameras do not require professional installation, but they are also fairly unreliable and it is not always possible to know whether or not they work until data is collected and they are pretty easy to steal, making them less than ideal for actual security purposes.
Common Types of Security Cameras
There are plenty of types of security cameras out there that can be installed in homes and businesses. Different cameras have varying functionalities that can benefit security systems. Some of the common types of CCTV cameras include:
Dome security cameras
Bullet security cameras
C-mount security cameras
Day/Night security cameras
Infrared security cameras
High-def HD security cameras
If you need help figuring out which system is best for you, or if you want to get started on the process of installing a CCTV security system on your property, give the experienced electricians at Expert Electric a call today!
Request a quote today for ongoing electrical maintenance or for any electrical project!