Electrician in Burnaby, BC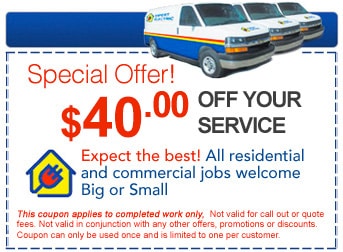 Are you dealing with electrical issues around your home or office you do not know how to fix? Do you need a licensed electrician in Burnaby, BC? Look no further. Expert Electric is Burnaby's top-rated electrical company, with 24/7 emergency service available when you need it most. Our electrical contractors can quickly be dispatched to your location with a single call. Not only do we provide a fast response time on our services, all of our pricing is clear and upfront with NO overtime fees. Call us to talk to one of our trained electricians today!
Contact Us

Phone: 604.465.9560

Email: Send Us An Email
Why call us first: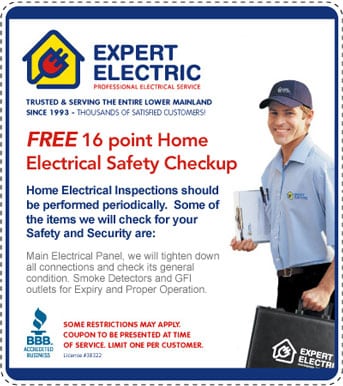 We are easy to reach – Real people answer our phones, not machines.
1,000's of parts on our service trucks – For on the spot repairs in your home or business.
Well Trained Courteous Electrical Technicians – we successfully perform repairs to thousands of electrical problems in the home and office every year.
Over 20 years of service helping customers from Vancouver to Abbotsford solve electrical problems.
Up Front Guaranteed Pricing – you know the price before the work begins.
24 hour emergency service.
Quick response time.
Trained electricians.
Personalized scheduling.
Burnaby Residential Electrician
Our residential electricians have helped thousands of Burnaby homeowners with their electrical service, repairs, installations, and upgrades over the years, including wiring upgrades and lighting installation. Customers continue to choose Expert Electric because of our trained and courteous electricians and our up-front guaranteed pricing. Nobody likes hidden fees. That is why all of our electrical service rates and pricing for home repairs are clear from the start. Our electricians will ensure that you know the service price before we begin the work.
Home electrical inspections should be performed periodically. That is why we provide 16 Point Home Electrical Safety Checkups, ensuring that the electrical systems in your home are safe and secure.
At Expert Electric, there is no home electrical project too big or small for our team. We handle a variety of home electrical services ranging from outdoor security lighting to electrical panel upgrades. Listed below are a few of the most common services we can provide for a Burnaby home:
Electrical outlets and circuits
Service panel upgrades
Spa and hot tub wiring
Lighting installation
Appliance circuits
Electric vehicle (EV) chargers
High-tech troubleshooting
Electrical code corrections
Electrical breakers and fuses
Smoke detector installation
Contact us today to learn more about our residential services.
Burnaby Commercial Electrician
Our commercial electricians are well versed and equipped to handle a variety of commercial electrical projects for commercial buildings, industrial spaces, and new construction projects, such as lighting installation, wiring upgrades, and electrical repairs. We also provide 24/7 emergency commercial electrical services for items that just can't wait until the next day. Our fast response times and upfront service prices make us the preferred electrical company for businesses in the Burnaby area. We provide all types of commercial electrical services including but not limited to the following:
Priority dispatching
Parking lot security lighting
Standby generator installation
Electrical signage and lighting repair
Specialty receptacles
Data and communication lines
Lighting installation
Hid lighting and control
Transformers
Contact us today to learn more about our commercial services.
Home and Office Electricians Near You
Our Burnaby electricians are proud to serve customers throughout Burnaby, BC. As the third largest city in BC, Burnaby continues to grow and develop. At Expert Electric, our electrical contractors are committed to providing residents of Burnaby and surrounding areas with electrical services they can count on. Some of the many areas throughout Burnaby that we provide home and office electrical services to include:
Brentwood
Deer Lake
Edmonds
The Heights
Lougheed
Metrotown
Burnaby Mountain
North Burnaby
South Burnaby
Contact us today to request an electrical service quote for your residential or commercial repairs or upgrades!