Home Theatre Lighting Installations
Home theatre room lighting makes or breaks an entertainment room. First you need to draw out how you plan to use the room. Where will the TV go? The furniture? Next decide on task lighting. Task lighting is purposeful light that is specific to a certain function such as flipping on a lamp to find the remote control or reading a book. Pencil small desk lamps or floor lamps onto your plan. Accent lighting comes next. What parts of the theatre room do you want to accentuate?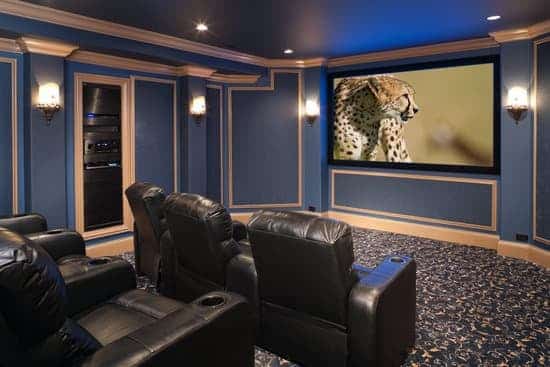 This type of lighting consists of recessed lights for shelving or moulding or a recessed ceiling can light to flood a piece of art on the wall. It highlights the unique architectural details of the room. Ask yourself where you want to hang family portraits or favorite art pieces and pencil them in on your plan.
Last, you need to decide on ambient lighting. Ambient lighting is like a warm glow that fills in all the spaces. Recessed can lights work well for this purpose. Sconce lights can help lighten dark corners as well.
Another unique idea is to recreate the drive-in theatre in doors. Black fabric colored ceiling tile with star-like LEDs can be installed in your ceiling to create the perception of a starry sky. These tiles double as an acoustic sound barrier for movie theatre quality sound. Take a look at the photo to the left.
Several types of theatre room lighting must be used in the proper balance to create a comfortable cinema experience.
Please call us anytime with for help with your theatre room lighting!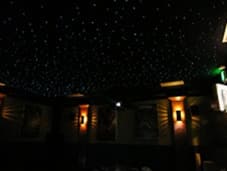 Request a quote today for ongoing electrical maintenance or for any electrical project!