Installing Outdoor Security Lighting
Installing outdoor security lighting is important for your home's safety and security. When your saying goodbye to guests in the evening, you don't want to send them out in the dark to fumble their way back to their vehicle. Without proper outdoor security lighting, your front yard can be riddled with hazards at night. Installing outdoor landscape lighting at home can help improve overall security while add pleasing aesthetics to your home at night.
How to position outdoor security lighting?
Outdoor lighting can add functionality in a number of ways – it can illuminate potential tripping hazards, deter criminals, and add a pleasing look to your home at night. The trick is to have the lights positioned correctly to have the desired effects. When placing your outdoor lighting keep these areas in mind:
House Address – Keep your address numbers illuminated to help friends and family find your home easily in the evenings.
Door Ways – Keep all doorways into the home lit up to prevent burglary and improve visibility to enter and exit your home.
Pathways – Any paths leading to the home should be visible to prevent tripping hazards and keeping your guests moving in the right direction.
Stairs – These are very important to be kept illuminated. If stairs on not properly illuminated, you have a serious tripping hazard.
How to install outdoor security lighting?
Installation of outdoor lighting can be different depending on the type of landscape lighting you choose. If you are using solar powered or battery powered lighting, you will not require any additional electrical work. If you are looking to install electrical lamps and fixtures on the outside your home or along a pathway, it will require the wire to run underground because of the high voltage to the home's electrical system. If you are unsure of how your new outdoor lighting connects to your home or want to prepare to install new landscape lighting, have an expert electrician do the installation for you.
Types of outdoor lights
Three common sources of outdoor lighting are fluorescent lamps, metal halide, and LED lighting. Fluorescent lamps are designed to run efficiently, but can have trouble starting in certain temperatures. Metal halide are highly efficient within a temperature range, but require approximately a minute to warm up – not ideal for motion lights. LED lighting is a popular choice because they are highly efficient, require no warm up time, and the bulb lasts longest, but this all comes at a higher cost.
Outdoor and landscape lighting is very important and something every homeowner should keep in mind. With so many options out there, it can be difficult to know where to start and what will work. Contact your local Expert Electric electrician and we can help you to optimize your outdoor lighting to keep you safe. For more information, check out our page on security and landscape lighting.
Benefits of Installing Outdoor Security Lighting
There are many benefits to installing outdoor security lighting. Installing outdoor security lighting can improve security and increase the overall value of one's home. At Expert Electric, we understand how important security lighting is to the overall safety of a home. Listed below are just some of the many benefits of installing outdoor security lighting in one's home.
1. Security lighting provides peace of mind
One of the biggest benefits of installing outdoor security lighting is the peace of mind it provides when you want to spend a night out or go on an extended vacation. For homeowners who do not want to leave the lights on the entire time they are on vacation, consider installing motion-sensing lights that only turn on when someone approaches the house.
2. Outdoor lighting prevents unwelcome guests
Security lighting can help prevent unwanted guests, both people and animals, from entering your property. If you have a garden that you would like to protect from furry critters, consider investing in motion-detecting security lights that are specifically designed to detect animals. This will help frighten the animals away, keeping your garden in an unsoiled condition.
3. Security lighting gives homeowners an insurance break
There are several measures homeowners can take to help lower the premium on their homeowner's insurance, including installing outdoor security lights. Since a well-lit home is statistically less likely to be burglarized or vandalized, this translates into lower insurance premiums.
4. Outdoor lighting prevents  unwanted accidents
Dark evenings can make it difficult for guests to walk around the outside of house, potentially causing completely avoidable accidents like someone tripping over an uncoiled hose. Installing outdoor security lighting can help make sure any welcome visitors are able to make it to the front door without falling or tripping, no matter the season or weather.
How to Protect Your Home with Landscape Lighting
Outdoor lighting can add beauty and dimension to a home, but it is also an integral part of an effective home security system. At Expert Electric, we know that the best security lighting allows for physical detection and facial recognition, minimizes hiding spots, and increases your sense of safety.
The Different Types of Outdoor Lights
When trying to decide which type of security lighting will work best for your home, it is important to look at options that are approved for wet and damp locations. The best types of security lights feature waterproof designs that are capable of withstanding the elements, such as humidity, rain, and snow. Some of the different types of security lights that are available for you to choose from include:
Floodlights – these security lights distribute a wide cone of light and are ideal for illuminating large spaces. This versatile fixture comes with one, two, or three adjustable heads for precise illumination.
Landscape path lighting – ideal for safely illuminating frequently used paths and walkways, as well as for illuminating trees and other architectural elements around your home.
Roadway luminaries – these lights are suitable for the general illumination and identification of your home.
Surface-mounted luminaries – ideal for general, accent, and decorative lighting on your home exterior.
Post luminaries – these lights provide ambiance lighting and are suitable for lighting driveways in order to welcome your guests.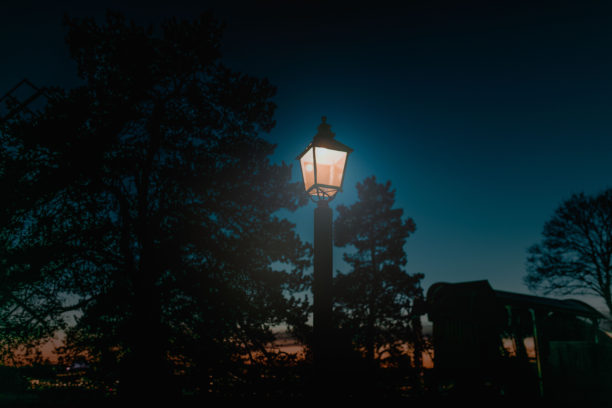 Where Should You Install Outdoor Security Lights?
When designing a security lighting system, it is important to identify any potential safety and security risks by surveying your home's perimeter and considering the impact of additional lighting in the surrounding areas. You should also take into account any local codes, such as light pollution. In order to determine your home's lighting needs, you should:
Assess your home and neighbourhood
As your neighbourhood develops and grows over time, you should evaluate your home to determine if any additional safety and security measures are needed. You should consider the following factors when assessing your home and neighbourhood:
Know your value – pinpoint desirable or high-value items on the property, such as garden ornaments, statues, and vehicles.
Survey the land – examine the landscape and perimeter of your home at different times of the day in order to identify potential safety and security hazards. Look for dark areas or deep shadows around the home, garage, and yard that could serve as potential hiding spots.
Active vs. Passive Elements
Once you have thoroughly canvassed your home and identified areas that present safety and security problems, you will need to determine your lighting approach – active or passive.
Active elements – motion-activated light fixtures are active security elements because movement activates them.
Passive elements – light fixtures on timers are passive security elements because they are activated at the same time each day.
The licensed electricians at Expert Electric are happy to help when it comes to choosing and installing the best outdoor security and landscape lighting. If you are interested in learning more about outdoor lighting, please call us at 604681-8333 or fill out a form on our contact us page.